Pompeii fountains and water features.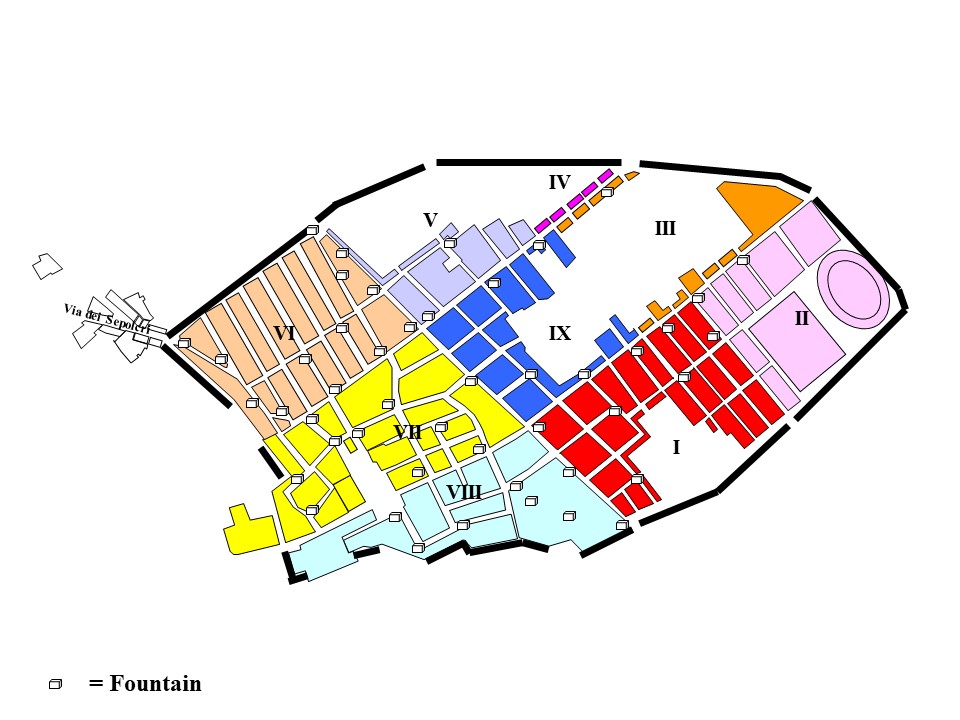 Click on this pompeiiinpictures plan or on the links below to view the pictures of any fountain or water feature in Pompeii.
Fountains
Pompeii Regio I:
Pompeii Regio II: II.1.2 II.3.5
Pompeii Regio III: III.11.f
Pompeii Regio IV: None
Pompeii Regio V: V.1.3
Pompeii Regio VI:
VI.1.2 VI.1.19 VI.3.20 VI.8.24
VI.10.10 VI.13.7 VI.13.17 VI.14.17
Castellum Aquae or Water Tower at Vesuvian Gate
VI.17.27 Fountain with Bacchus Head [no longer there]
Pompeii Regio VII:
Fountain in arch at NE corner of Forum
Pompeii Regio VIII:
Fountain inside the Triangular Forum
Fountain in Gladiators Barracks at North West corner
Pompeii Regio IX:
IX.7.17 IX.8.1 IX.10.2 IX.11.1

Aqueduct and Water supply
See Wilke D. Schram's site www.romanaqueducts.info for the remains of the aqueduct and water supply system of Pompeii and its distibution layout.