Pompeii Regio VII (Regio 7).
Plan of Insulae 1 to 16 and the Suburban Baths.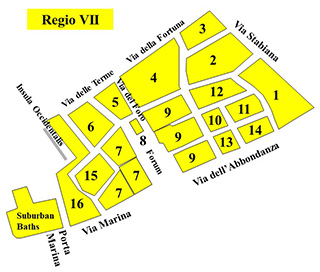 Use the pompeiiinpictures plan of the 16 Insulae of Pompeii Regio VII to access the photographs.
Click on the Insula you want on the plan or click on a link below to reach the pictures.
Forum Foro Civile or The Forum
VII.8.1 Tempio di Iuppiter
o Tempio di Giove
or Temple of Jupiter
VII.9.1 Eumachia Building
VII.9.7-8 Macellum
VII.7.32 Tempio di Apollo
or Temple of Apollo
VII.9.2 Temple of Vespasian
or Temple of the Genius of Augustus
or Temple of Mercury
VII.12.18 Lupanare or the brothel
VII.5.24 Terme del Foro
or Forum Baths
VII.1.8 Terme Stabiane
or Stabian Baths
VII.16.a Terme Suburbane
or Suburban Baths
House of Aulus Umbricius Scaurus
II VII.16.12 VII.16.13 VII.16.14
VII.16.22 Casa di Fabio Rufo
or House of M Fabius Rufus
VII.4.48 Casa di Caccia Antica
or House of the Ancient Hunt
or House of the Hunt
or House of the Wild Boar
VII.4.31/51 Casa degli Capitelli colorati
or House of the Coloured Capitals
or Casa di Arianna
or House of Ariadne
VII.2.45 Casa dell' Orso Ferito
or House of the Bear
VII.2.18 Domus C. Vibi
or House of C. Vibius
VII.5.18 Modern restaurant and toilets
outside the north-east corner of the Forum