VII.6.24 Pompeii. Thermopolium. Linked to VII.6.22, VII.6.23 and VII.6.25.
Excavated 1762, 1846, 1872, 1910. Bombed in 1943.
According to Garcia y Garcia Region VII, Insula VI was one of the insulae most devastated over the years since its excavation.
He calls it the "Cinderella" of Pompeii. Between the years 1759 and 1762 it was vandalised and stripped by the Bourbons, then re-interred.
Then came the slow and non-systematic uncovering again before the final destruction in September 1943.
The area was ignored and abandoned during the years following the war, which reduced the insula to a heap of bricks and masonry.
See Garcia y Garcia, L., 2006. Danni di guerra a Pompei. Rome: L'Erma di Bretschneider. (p.102).
<![if !vml]>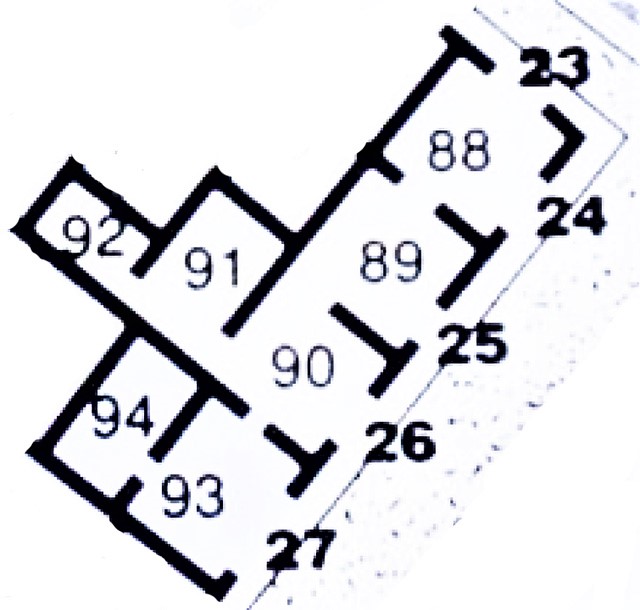 <![endif]>
VII.6.23-27 Pompeii. Plan based on PPM.
See Carratelli, G. P., 1990-2003. Pompei: Pitture e Mosaici: Vol. VII. Roma: Istituto della enciclopedia italiana, p. 182.
<![if !vml]>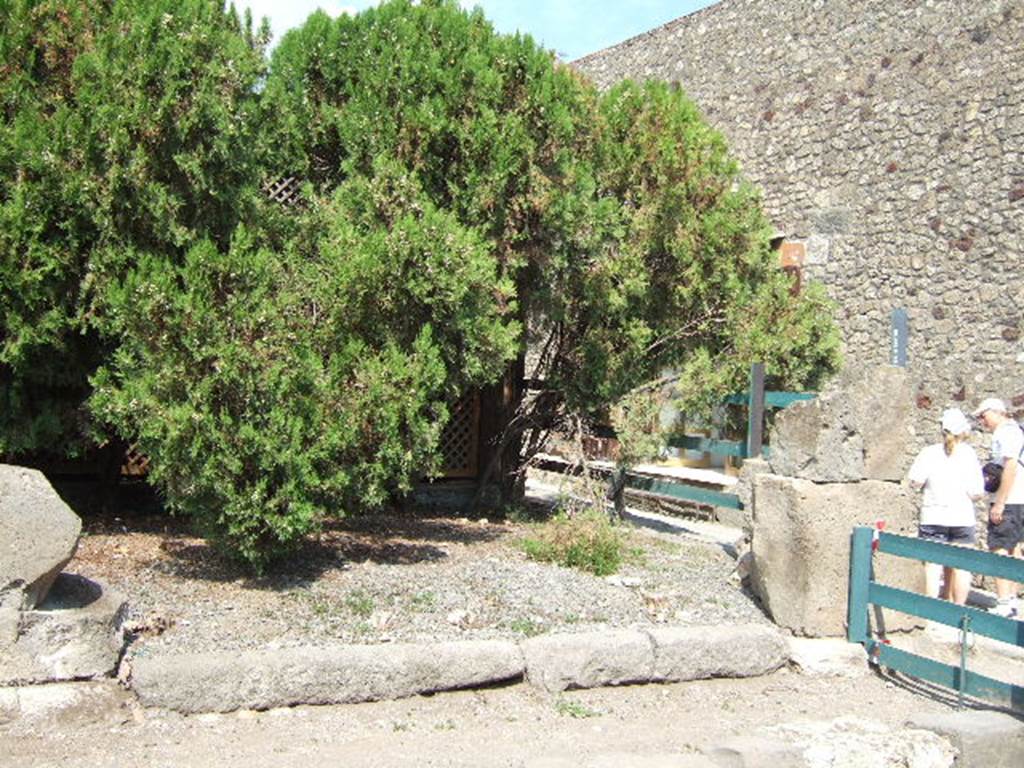 <![endif]>
VII.6.24 Pompeii. September 2005. Looking north towards remains of entrance.
This thermopolium was destroyed in the 1943 bombing.
Lost were the dividing walls, the entrance pilasters, and the sales-counter with 3 small urns in the marble counter.
However, the biggest loss was the Eituns, the Oscan inscription painted on the corner pilaster between VII.6.23 and 24.
The Eituns had become visible only after the fall of the plaster added during the roman times.
The Eituns had been painted directly onto the large blocks of Nucerian stone, and in the bombardment it was lost together with all of the pilaster.
See Garcia y Garcia, L., 2006. Danni di guerra a Pompei. Rome: L'Erma di Bretschneider. (p.105 & Fig 235-8)
A drawing of the Eituns can be seen –
See Pappalardo, U., 2001. La Descrizione di Pompei per Giuseppe Fiorelli (1875). Napoli: Massa Editore. (p.160)
See Associazione Internazionale Amici di Pompei: Quaderni di Studi Pompeiani, 1/2007:
article by Rosalba Antonini on Eituns, (p. 47-113, in Italian).
<![if !vml]>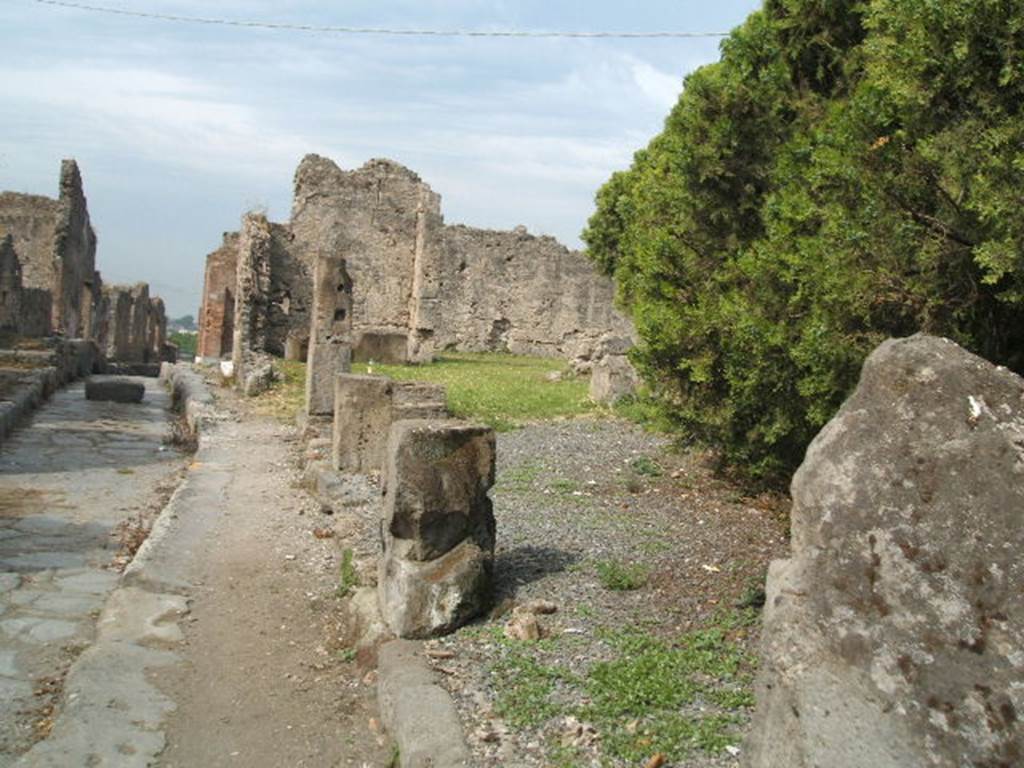 <![endif]>
VII.6.24 Pompeii. May 2005. Looking west along entrance towards site of west wall.
According to Boyce, in the west wall of the corner thermopolium at VII.6.23/24, there was a rectangular niche.
It was called "la nicchia dei Penati" by Fiorelli.
See Boyce G. K., 1937. Corpus of the Lararia of Pompeii. Rome: MAAR 14. (p.67, no.290)
<![if !vml]>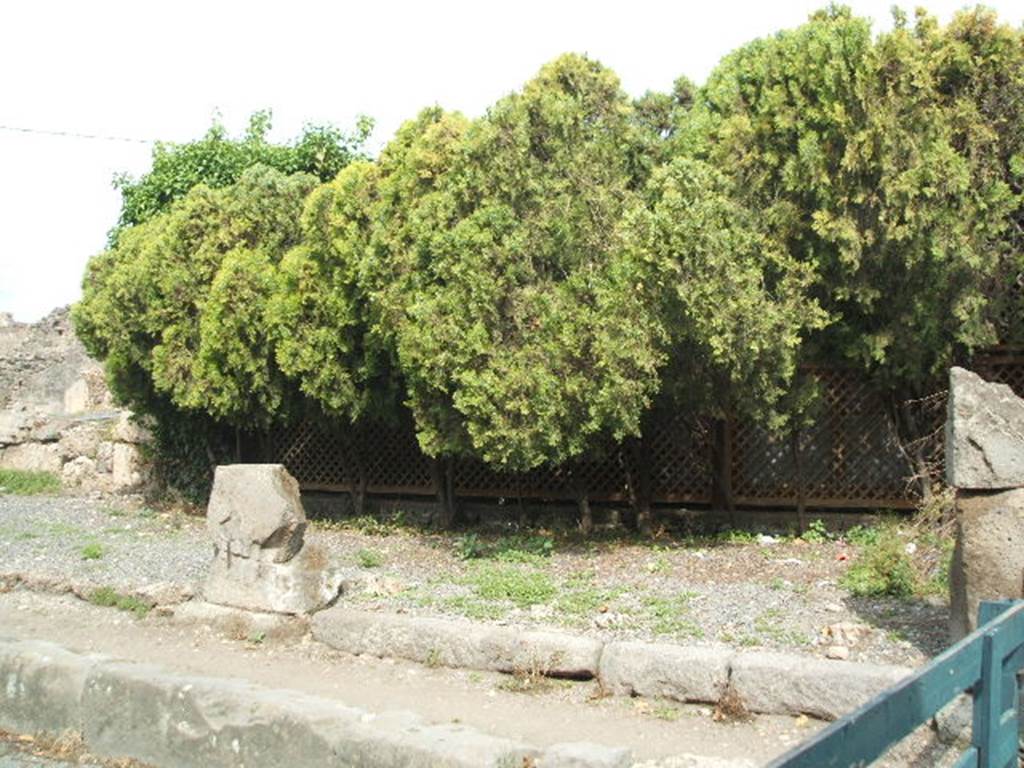 <![endif]>
VII.6.24 Pompeii. May 2005. Looking towards entrance.
Giornale degli Scavi:
Nel proseguire lo scavo suindicato del vicolo d'Augusto, nella bottega che facendo parte dell'isola VI, viene dopo il vicoletto che costeggia le Terme, si č trovato:
In continuing the above excavation of the vicolo of Augustus, in the workshop that, being part of the insula VI, comes after the alley that runs along the Baths, was found:
A marble slab with a Sepulchral inscription was found on 15th July 1872 in this area.
It was splintered into small parts, but read –
Traebia Fortunata
vixit annis XXIX    [CIL X 1078]
See Giornale degli Scavi NS2 1873, p. 427 no. 15.
According to Calderón Sánchez, this is said to have been found near entrance number 24 of the thermopolium.
However, it is so unlikely that a funeral inscription was inside the city and, above all, that a shopkeeper placed it near the door of his shop that it was concluded that the marble fragment was probably reused for other purposes or was moved from its initial site due to subsequent looting.
See Calderón Sánchez, Macarena (2012) Documentos epigráficos para el estudio de la Casa de la Diana Arcaizante y de la ínsula VII, 6, Pompeya. [Trabajo Fin de Máster]
This was numbered 54 on display in the Pompeii Antiquarium, prior to its bombing in 1943.
It was described as a Fragments of marble stele in Fiorelli's guide of 1877. (Guida di Pompei, p.91)
CIL X 1078 however attributes it to the House of A. Octavius Primus VII.15.13.