A complete photographic plan of ancient Pompeii as it is today, produced by Jackie and Bob Dunn for those as enthusiastic about Pompeii as we are.

PompeiiinPictures
The site has now expanded beyond just Pompeii, to encompass areas such as Herculaneum, Stabiae, Oplontis, Boscoreale, Boscotrecase, Gragnano, Scafati and surrounding areas.
Clicking on the name on the bar for any of these options will open the bar and give access to the information and photos. Clicking again will close it.
By default, as you would expect, the Pompeii bar is open first.
August 2018 update.
Menus
We have redesigned the menu system on all pages.
The menus are now only at the top of the page and occupy less space.
The Pompeii button will give you a link to each regio and all the pages related to Pompeii
The Other button will give you access to all the villas in the areas surrounding Pompeii such as Boscoreale, Boscotrecase, Stabiae, Oplontis, Scafati etc
The Find button will give you access to the search page, the index of names used on pompeiiinpictures, the explanation of Roman naming, and the glossary of terms.
The Help button will get you to the Help page, to an explanation of Pompeii house numbering and our Contact Us page.
Clicking on a button will bring down the menu, which will stay down until either you click on an item in that menu or click on another menu or click back on the top of the menu to close it.
The new menus are more mobile and tablet friendly.
They no longer take up a chunk of the left side of the screen or wrap round at the top of the screen, leaving those areas free to show more of the photos and text.
On plan pages the links are to the left and narrative to the right
Very occasionally only you may want to turn your phone 90 degrees to get a better fit.
On the plans pages the original plan is still large but the links below it are arranged to fit on a mobile screen without needing to be enlarged, reduced vor wrap round.
The back, up, down and home button group is no more sadly, as the feature is no longer available in the software we use.
Don't forget that you can use the browser back button to get back to the previous page or plan without using the menus.
Our old menu software has been discontinued and as a result the old menus no longer worked properly on mobile and tablet devices.
In some browsers the old menu may come up the first time you use some pages and this can be cleared by refreshing the page using the browser refresh or reload page button that usually looks like a three-quarter circle with an arrow on one end.
New in Pompeii
Our thanks to Buzz Ferebee for the many photos he took on his May trip this year.
This has greatly improved our coverage in areas such as the
VII.7.5 House of Tryptolemus,
VII.7.10 House of Romulus and Remus,
VII.15.2 Casa del Marinaio
VIII.2.1 Casa di Championnet I
VIII.2.3 Casa di Championnet II
VIII.2.14 Courtyard of the Moray Eels
VIII.1 and the other houses of VIII.2 and many more areas.
All these new pages have the larger photos.
We have added new pages for Casts, Skeletons, the Pompeii city walls and for Vesuvius and all are available from the new menus.
Plaster casts and Skeletons
Casts Calchi
Skeletons Scheletri
The casts will include the bodies, doors, shutters, animals, trees and plants etc.
Walls
Pompeii City Walls Mura della Citta
Vesuvius
History and eruptions Storia ed eruzioni
Vesuvius Transport Trasporto del Vesuvio
On Vesuvius Sul Vesuvio
Views of Vesuvius Viste del Vesuvio
New in surrounding areas
A number of new surrounding villas have been added also.
Boscoreale
Boscotrecase
Villa on fondo Bergamasco at Casavitelli
Contrada Casavitelli, Fondo Bergamasco
Villa in fondo Luigi Paduano, Casa Vitelli, localita Pescioni

[post 79AD]

Contrada Casavitelli, Localita Pescioni

,

proprieta L. Paduano

Via Cantinelle, supposed Roman hotel in proprieta Matrone

Via Cantinelle,

proprieta Matrone

Forno romano

,

Via Cinquevie, proprieta Panariello

Via Cinquevie, proprieta Panariello
Villa rustica a Casavitelli, proprieta De Martino
Casavitelli, proprieta De Martino
Scafati
There are many more pages that have been updated.
The NEW page has now been discontinued to allow us to focus more time on other aspects.
What's new will be highlighted here in future.
Photo sizes
We have also increased the size of the photographs on many pages and this will happen progressively month by month for every page.
I.1, I.2, I.3, VII.7, VII.15, VIII.1, VIII.2, Arches, Towers and some villas photo sizes have been increased this month.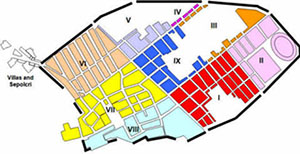 Use the pompeiiinpictures interactive map, buttons or links to view pictures of the excavations at Pompeii of every regio, insula, house, shop, villa, temple, baths, altar, fountain, gate, tomb or tower.
Please click on a Regio of the coloured plan to go to the next plan and to the photographs or click on one of the links below.
Regio: I II III IV V VI VII VIII IX
Torre Towers
Mura della città City Walls
Pompei Guide turistiche
Pompeii Tourist Guides
Guida agli scavi di Pompei
Italiano
A Guide to the Pompeii
Excavations
English
Guía de las excavaciones
de Pompeya
Espanol

Guide aux fouilles de Pompéi

Francais
Führer durch die Ausgrabungen
von Pompeji
Deutsch
Путеводитель по раскопкам
города Помпеи
ポンペイ遺跡ガイド
Japanese

龐貝指南

Chinese

دليل

بومبيي

Arabic
Copyright
Every effort has been made to secure permission for any copyright material. In the event of any material being used inadvertently, please contact us, stating the location and nature of the copyright issue, your contact details and whether you are the copyright holder or what your role is in relation to the copyright holder.
The low resolution pictures on this site are copyright © of Jackie and Bob Dunn and MAY NOT IN ANY CIRCUMSTANCES BE USED FOR GAIN OR REWARD COMMERCIALLY. On concession of the Ministero dei Beni e delle Attività Culturali e del Turismo - Parco Archeologico di Pompei. It is declared that such reproduction or duplication cannot be considered legitimate without the written authorization of the Parco Archeologico di Pompei.
Le immagini fotografiche a bassa risoluzione pubblicate su questo web site sono copyright © di Jackie e Bob Dunn E NON POSSONO ESSERE UTILIZZATE, IN ALCUNA CIRCOSTANZA, PER GUADAGNO O RICOMPENSA COMMERCIALMENTE. Su concessione del Ministero dei Beni e delle Attività Culturali e del Turismo - Parco Archeologico di Pompei. Si comunica che tale riproduzione o duplicazione non può considerarsi legittimo senza l'autorizzazione scritta del Parco Archeologico di Pompei.
Copyright © 2016 · All Rights Reserved · Jackie and Bob Dunn