A complete photographic plan of ancient Pompeii as it is today, produced by Jackie and Bob Dunn for those as enthusiastic about Pompeii as we are.

The site has now expanded beyond just Pompeii, to encompass areas such as Herculaneum, Stabiae, Oplontis, Boscoreale, Boscotrecase, Gragnano, Scafati and surrounding areas.
Clicking on the name on the bar for any of these options will open the bar and give access to the information and photos. Clicking again will close it.
By default, as you would expect, the Pompeii bar is open first.
pompeiiinpictures.eu users and Brexit
If the UK leaves the EU with no deal on 31st October
If you are using pompeiiinpictures.eu and the UK leaves the EU with no deal on 31st October the EU will arbitrarily close down all .eu websites registered with UK postal addresses, like ours, on 1st January 2020.
This is because a web site registered for a UK citizen with a UK address will no longer be allowed.
As we are two pensioners with only one home, in the UK, we do not have access to an EU address/subsidiary.
From the 1st January pompeiiinpictures.eu will stop working
Normally we would automatically redirect you to one of our other sites but if pompeiiinpictures.eu is not working neither will any redirection.
This will not help you if you find us via an existing pompeiiinpictures.eu search engine link as you will be told the site does not exist and denied access.
We are powerless to do anything about this petty, farcical state of affairs.
What can you do?
All we can suggest is that you start to use pompeiiinpictures.com or pompeiiinpictures.org instead and change any browser bookmarks.
If you have a published reference or bookmark with pompeiiinpictures.eu in it, the simplest way to deal with it is to change the eu to org (or eu to com/pompeiiinpictures).
If the UK has a deal
The same issue still arises but the site will be closed down after a year or so, whatever is the Brexit deal transition period.
Our apologies
We know a lot of you in Europe use pompeiiinpictures.eu.
Please accept our apologies for this situation which is not of our making and we hope you continue to find pompeiiinpictures as valuable as you have in the past.
If you have an ideas on how to better tackle this .eu problem we would welcome any input.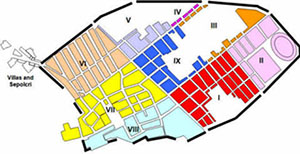 Use the pompeiiinpictures interactive map, buttons or links to view pictures of the excavations at Pompeii of every regio, insula, house, shop, villa, temple, baths, altar, fountain, gate, tomb or tower.
Please press on a Regio of the coloured plan to go to the next plan and to the photographs or press one of the links below.
Regio:
| | |
| --- | --- |
| Altare nelle strade | |
| Archi | |
| Terme | |
| Calchi | |
| Scheletri | |
| Fontane e acqua | |
| Le Porte | |
| Mappe di Pompei | |
| Edifici pubblici | |
| Vedute di ogni strada | |
Pompei Guide turistiche
Pompeii Tourist Guides
Guida agli scavi di Pompei
Italiano
A Guide to the Pompeii
Excavations
English
Guía de las excavaciones
de Pompeya
Espanol

Guide aux fouilles de Pompéi

Francais
Führer durch die Ausgrabungen
von Pompeji
Deutsch
Путеводитель по раскопкам
города Помпеи

ポンペイ遺跡ガイド

龐貝指南

دليل

بومبيي

Arabic
Copyright
Every effort has been made to secure permission for any copyright material. In the event of any material being used inadvertently, please contact us, stating the location and nature of the copyright issue, your contact details and whether you are the copyright holder or what your role is in relation to the copyright holder.
The low resolution pictures on this site are copyright © of Jackie and Bob Dunn and MAY NOT IN ANY CIRCUMSTANCES BE USED FOR GAIN OR REWARD COMMERCIALLY. On concession of the Ministero per i Beni e le Attività Culturali - Parco Archeologico di Pompei. It is declared that such reproduction or duplication cannot be considered legitimate without the written authorization of the Parco Archeologico di Pompei.
Le immagini fotografiche a bassa risoluzione pubblicate su questo web site sono copyright © di Jackie e Bob Dunn E NON POSSONO ESSERE UTILIZZATE, IN ALCUNA CIRCOSTANZA, PER GUADAGNO O RICOMPENSA COMMERCIALMENTE. Su concessione del Ministero per i Beni e le Attività Culturali - Parco Archeologico di Pompei. Si comunica che tale riproduzione o duplicazione non può considerarsi legittimo senza l'autorizzazione scritta del Parco Archeologico di Pompei.
Copyright © 2019 · All Rights Reserved · Jackie and Bob Dunn
Ultimo aggiornamento - Last updated: 18-Sep-2019 23:11