A complete photographic plan of ancient Pompeii as it is today, produced by Jackie and Bob Dunn for those as enthusiastic about Pompeii as we are.

PompeiiinPictures
The site has now expanded beyond just Pompeii, to encompass areas such as Herculaneum, Stabiae, Oplontis, Boscoreale, Boscotrecase, Gragnano, Scafati and surrounding areas.
Clicking on the name on the bar for any of these options will open the bar and give access to the information and photos. Clicking again will close it.
By default, as you would expect, the Pompeii bar is open first.
News
May 2018 update.
Jackie and Bob are pleased to announce the first update to HerculaneuminPictures, the companion site to our PompeiiinPictures offering.
We have been overwhelmed with the reception that HerculaneuminPictures has been given by all of you and are pleased you have found it useful.
Thanks to everyone who has sent us photos.
We would particularly like to thank Nicolas Monteix for his many photographs and help that have considerably widened our coverage of Herculaneum.
We would also like to thank Sera Baker for her many pictures that have also helped us expand coverage, particularly her underground photos of the Theatre, where access is impossible to come by these days.
Our thanks to the Skulpturensammlung, Staatliche Kunstsammlungen Dresden, for allowing us to use their photos of the Herculaneum Women taken by Ingrid Geske.
The Herculaneum Women were the first significant finds at ancient Herculaneum in 1711. They are among the best preserved of all the sculptures found there, virtually intact. They probably once decorated the Theatre stage's impressive double-tiered façade but were removed by Prince D'Elboeuf and presented as a gift to Prince Eugene of Savoy in Vienna soon after. You can see these on the Theatre page.
The Augusteum, the Basilica Noniana and the Theatre have had major makeovers as have many other pages.
The theatre page now has a high resolution copy of the original 1739 Theatre plan by Alcubierre along with its full Spiega (Key or legend) in Italian which was published later.
We have added new categories for Baths and Streets.
The Augusteum, Basilica Noniana and the Casa dei rilievi dionisiaci now have links on the left of every page.
There is a link to PompeiiinPictures which you can access from the left hand menu on every page.
All this builds on our original photos and those of Michael Binns, Peter Woods and Buzz Ferebee that enabled us to build the site.
We would also like to thank Professor Andrew Wallace-Hadrill for allowing us to use material from his book Herculaneum Past and Future. (Wallace-Hadrill, A. 2011. Herculaneum, Past and Future. London, Frances Lincoln.)
So many houses in Herculaneum are closed and under restoration which means that our coverage is still limited in places.
We look forward to expanding the coverage wherever the Parco Archeologico Ercolano allows access and whenever you can send us photos that fill gaps, add artefacts or enable comparisons over time to be made.
Our Pompeii sites www.pompeiiinpictures.com and www.pompeiiinpictures.org continue to be available separately but the Herculaneum and Pompeii web sites are now linked so you can move between them, whenever you wish.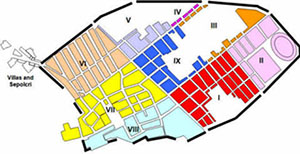 Use the pompeiiinpictures interactive map, buttons or links to view pictures of the excavations at Pompeii of every regio, insula, house, shop, villa, temple, baths, altar, fountain, gate, tomb or tower.
Please click on a Regio of the coloured plan to go to the next plan and to the photographs or click on one of the links below.
Regio: I II III IV V VI VII VIII IX
Torre Towers
Pompei Guide turistiche
Pompeii Tourist Guides
Guida agli scavi di Pompei
Italiano
A Guide to the Pompeii
Excavations
English
Guía de las excavaciones
de Pompeya
Espanol

Guide aux fouilles de Pompéi

Francais
Führer durch die Ausgrabungen
von Pompeji
Deutsch
Путеводитель по раскопкам
города Помпеи
ポンペイ遺跡ガイド
Japanese

龐貝指南

Chinese

دليل

بومبيي

Arabic
Copyright
Every effort has been made to secure permission for any copyright material. In the event of any material being used inadvertently, please contact us, stating the location and nature of the copyright issue, your contact details and whether you are the copyright holder or what your role is in relation to the copyright holder.
The low resolution pictures on this site are copyright © of Jackie and Bob Dunn and MAY NOT IN ANY CIRCUMSTANCES BE USED FOR GAIN OR REWARD COMMERCIALLY. On concession of the Ministero dei Beni e delle Attività Culturali e del Turismo - Parco Archeologico di Pompei. It is declared that such reproduction or duplication cannot be considered legitimate without the written authorization of the Parco Archeologico di Pompei.
Le immagini fotografiche a bassa risoluzione pubblicate su questo web site sono copyright © di Jackie e Bob Dunn E NON POSSONO ESSERE UTILIZZATE, IN ALCUNA CIRCOSTANZA, PER GUADAGNO O RICOMPENSA COMMERCIALMENTE. Su concessione del Ministero dei Beni e delle Attività Culturali e del Turismo - Parco Archeologico di Pompei. Si comunica che tale riproduzione o duplicazione non può considerarsi legittimo senza l'autorizzazione scritta del Parco Archeologico di Pompei.
Copyright © 2016 · All Rights Reserved · Jackie and Bob Dunn