Pompeii Regio V(5)
Plan of Insulae 1 to 8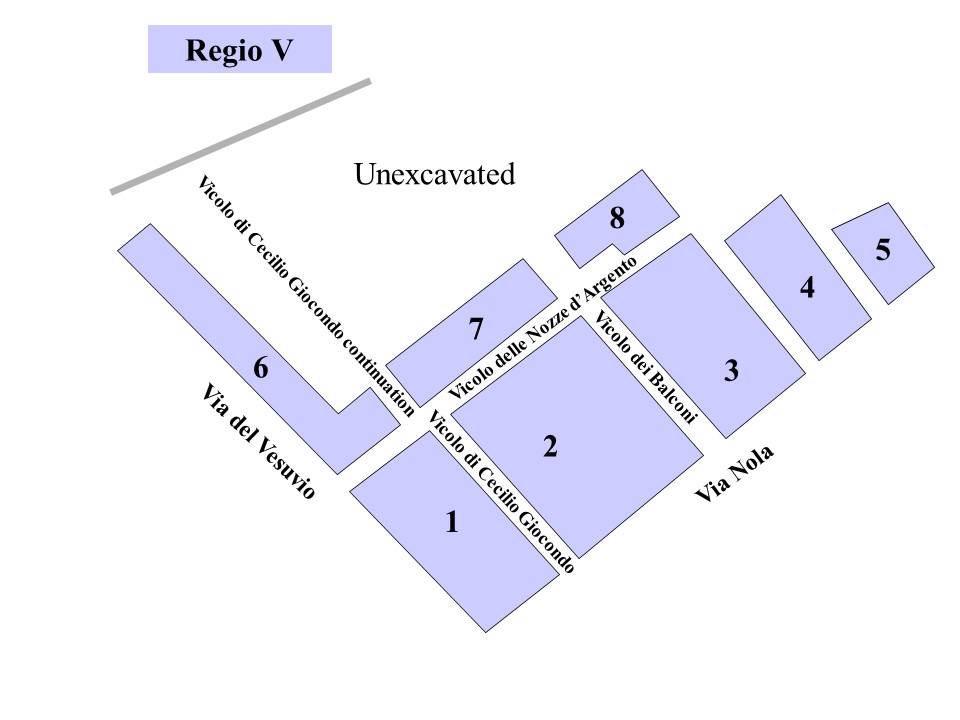 Pompeiiinpictures plan of the Insulae of Pompeii Regio V.
Each insula has a specific plan on our site showing the entrances with links to information and photographs.
The plan includes the areas excavated since 2018, details of which can be found in the individual insulae and streets pages.
If your screen is large enough (640px wide or greater) press the insula you want on this plan to go to that insula.
If you are on a smaller screen such as a phone or tablet you can use the links below to see the insula plan.
Regio V updated with the new discoveries
We have updated our pages for Regio V to include the new excavations in all the insulae.
We thank Prof. Osanna and the Parco Archeologico di Pompei for giving us permission to use their press release photos and material of the excavations of Regio V from which we have reconstructed our pages and placed the new discoveries in what we believe are their correct locations.
Abbiamo aggiornato le nostre pagine per Regio V per includere i nuovi scavi in tutte le insule.
Ringraziamo il Prof. Osanna e il Parco Archeologico di Pompei per averci dato il permesso di utilizzare le loro foto comunicate stampa e il materiale degli scavi di Regio V da cui abbiamo ricostruito la nostra pagine e collocato le nuove scoperte in quelle che crediamo siano le loro posizioni corrette.
The following pages are amongst those updated:
Le seguenti pagine sono tra quelle aggiornate:
V.2.15 Casa di Giove or House of Jupiter
V.2 Casa di Orione or House of Orion
V.3 Larario sontuoso Sumptuous lararium
V.3 Casa con/dei Giardino House with garden
V.3 Case con Balconi Balcony houses
V.3 Piccola fullonica Small fullonica with entrance on Via di Nola
V.3 Termopolio con Nereide Richly decorated thermopolium at crossroads between Vicolo delle Nozze d'Argento and Vicolo dei Balconi
V.6.1 Caupona of Manius Salarius Crocus?
V.6.7 House with a fountain or nymphaeum.
V.6.12 House with painting of Priapus, Leda and the Swan and Narcissus.
V.7.1 Casa degli Amorini, House of the Cupids.
V.7.6 House of Paris
V.7.7 Casa dei Delfini, House of the Dolphins.
V.7.8 Doorway with ash imprint of the original wooden doors.
V.8 Termopolio con Gladiatori Combattenti Bar with fresco of gladiatorial contest, at crossroads between Vicolo delle Nozze d'Argento and Vicolo dei Balconi
Oggetti trovati durante gli scavi del 2018-9 Items found in the excavations of 2018-9
Vicolo dei balconi Street of the balconies
Vicolo delle Nozze d'Argento Vicolo delle Nozze d'Argento
Vicolo di Cecilio Giocondo Vicolo di Cecilio Giocondo
Fountain V.8/V.3 Newly excavated fountain in quadrivio between V.8 and V.3
PAdiP Regio V drone flyover video (YouTube) The new excavations of Pompeii in Regio V revealed in an exclusive virtual tour by Massimo Osanna
New excavations
New excavations began in 2018 in Regio V.
These are links to some of the press and soprintendenza photos of these areas.
These are not our photos so to use these photos you will need to obtain permission from the respective owners.
Pompeii celebrates 270 years since its discovery with new excavations
48 photos of Regio V (cuneo/wedge) excavations and House of the Silver Wedding

New Pompeii district to be uncovered
New Pompeii district to be uncovered using drones, lasers and virtual reality
New findings in Pompeii paint vivid picture of ancient Roman life
New findings in Pompeii paint vivid picture of ancient Roman life
Soprintendenza photos
Amore e sensualità negli affreschi della regio V
Love and sensuality in the frescoes of Regio V
Amphorae stored
Preserved amphorae emerging from the ash
Preserved amphorae in the ash
Thermopolium with counter painted with nereid and shop sign
Finds
Finds from the excavations
The new discoveries in Regio V - Gazetta di Napoli