Pompeii Regio IX(9)
Plan of Insulae 1 to 14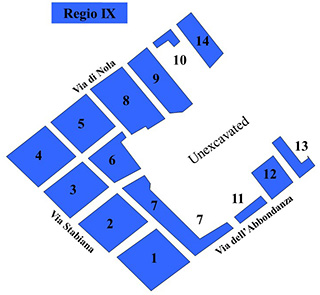 Pompeiiinpictures plan of the Insulae of Pompeii Regio IX.
Each insula has a specific plan on our site showing the entrances with links to information and photographs.
If your screen is large enough (320px wide or greater) press the insula you want on this plan to go to that insula.
If you are on a smaller screen such as a phone or tablet you can use the links below to see the insula plan.
IX.8.6/3/a Casa del Centenario
Houses of:
IX.12.6 The Chaste Lovers
IX.1.20 M. Epidius Rufus
or the Diadumeni
IX.1.22 Epidius Sabinus
IX.13.3 Julius Polybius
IX.5.18 Jason
IX.3.5 M. Lucretius
or delle Suonatrici
IX.14.2/4 M. Obellius Firmus
IX.12.9 The Painters at Work
IX.3.15 Philocalus
IX.9.c Casa del Porcellino
or di Sulpicius Rufus
IX.5.9 Casa dei Pygmeii
IX.3.2 Officina offectoria di Ubonius
or Dye shop of Ubonius