HGE30 Pompeii.

Herculaneum Gate East Side.

Potter's

Workshop.
Linked to HGE29.

Excavated 1838.

Bombed in 1943.
(Eschebach East 30, Kockel Nord 30).
<![if !vml]>

<![endif]>
HGE30 Pompeii. May 2006. Looking south.
The workshop HGE29 was discovered and excavated between October 15 and November 11, 1838. Fiorelli specifically mentioned the oven and 34 pots with a handle discovered on October 15, 1838: [Fiorelli, PAH II, 1863, p. 361.].
According to Fiorelli, HGE29, the last of the workshops, enclosed a reverberatory furnace for firing pottery, and had another room, with a second furnace not fully excavated.
See Fiorelli, G., 1875. Descrizione di Pompei. Napoli, p. 416.
On the 22nd October 1838, a second potters oven was discovered and in a corner of the same were found 30 pots of various shapes and sizes, and among them one with long handle: [Fiorelli, PAH II, 1863, p. 361.].
This second oven would have been in shop HGE30.
According to Garcia y Garcia, a bomb fell during the night of 18th September 1943 hitting the workshop HGE30. This destroyed the two rooms with their respective ovens.
See Garcia y Garcia, L., 2006. Danni di guerra a Pompei. Rome: L'Erma di Bretschneider, (p.163).
According to Mau, a potter's workshop with two ovens was located at HGE29 and HGE30.
The ovens, which were not large, had an upper division in which were placed the vessels to be baked.
Beneath this was a firebox, underneath the floor above being pierced with holes to let the heat through.
The vault of one of the ovens was constructed of parallel rows of jars fitted into one another.
See Mau, A., 1907, translated by Kelsey, F. W., Pompeii: Its Life and Art. New York: Macmillan. (p. 386).
<![if !vml]>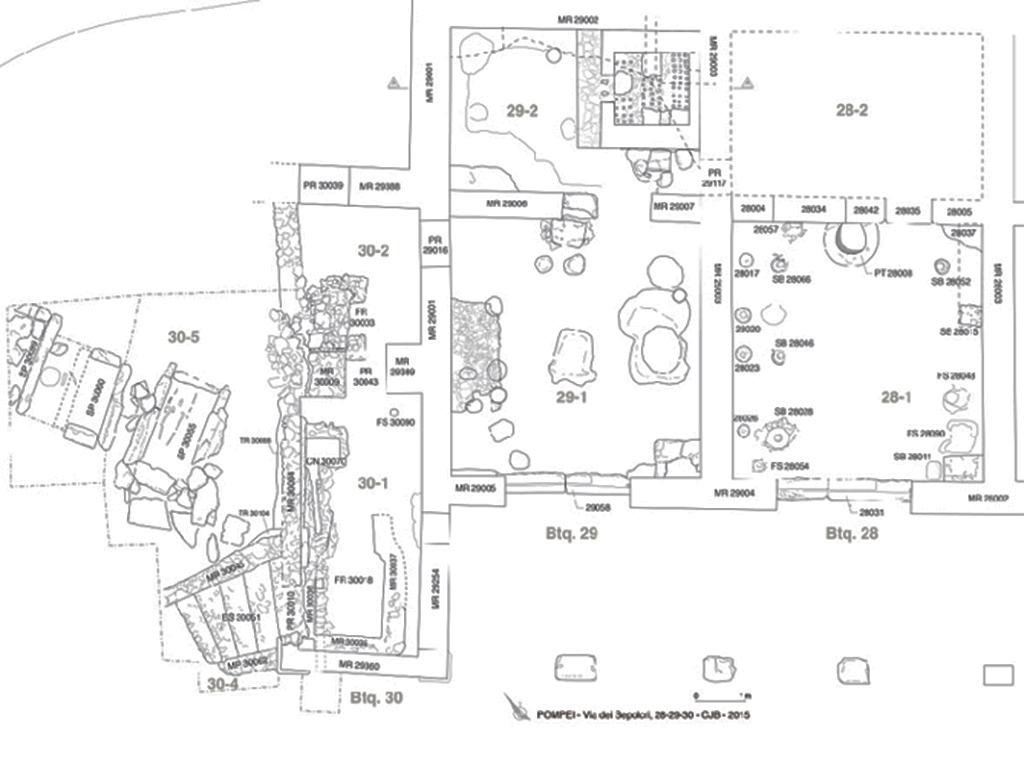 <![endif]>
HGE30 Pompeii. May 2006. Looking south through doorway into HGE29.