IX.3.7 Pompeii. Shop of Pilocalus.
Excavated 1846, 1849 and 1851. (Strada Stabiana 36).
<![if !vml]>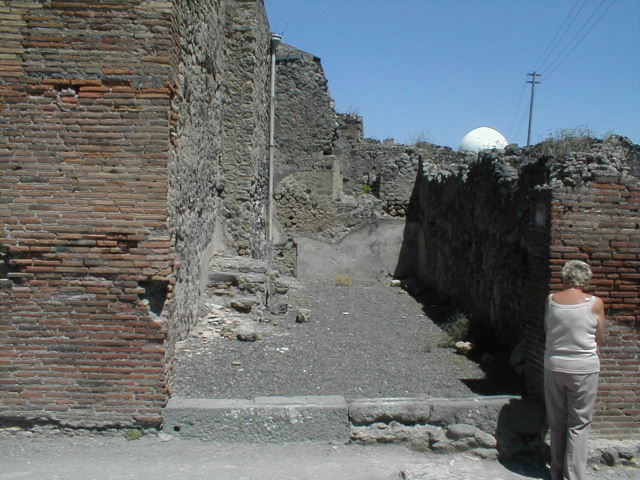 <![endif]>
IX.3.7 Pompeii. May 2005. Entrance, looking east from Via Stabiana.
According to Fiorelli, "this shop was very deep, and inside had stairs to the mezzanine above with the niche of the Penates, near to which was found that painting depicting Isis-Fortuna on the globe, the god Luno on horseback, and winged Esperus carrying a torch: at the top one read" -
<![if !vml]>
<![endif]>
See Fiorelli, G., (1875). Descrizione di Pompei, (p.394)
See Pappalardo, U., 2001. La Descrizione di Pompei per Giuseppe Fiorelli (1875). Napoli: Massa Editore. (p.146)
See Bullettino dell'Instituto di Corrispondenza Archeologica (DAIR), 1847, p. 127-8.
<![if !vml]>
<![endif]>
IX.3.7 Pompeii. May 2006. Entrance, looking towards the south wall.
<![if !vml]>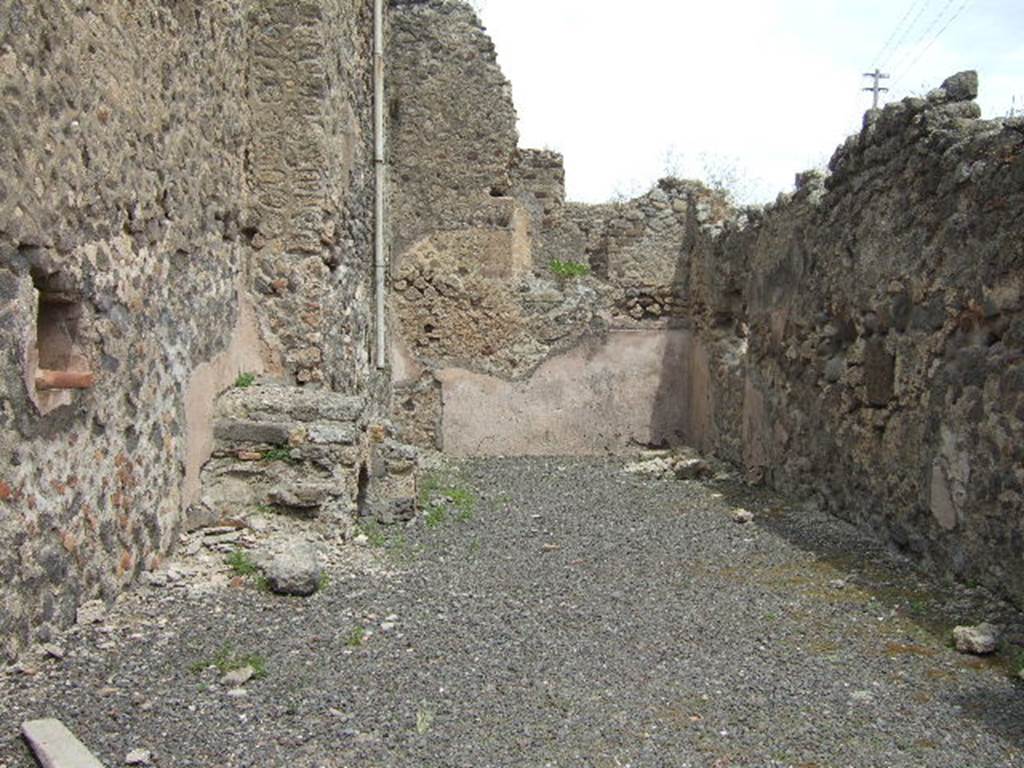 <![endif]>
IX.3.7 Pompeii. May 2006. North and east wall.
<![if !vml]>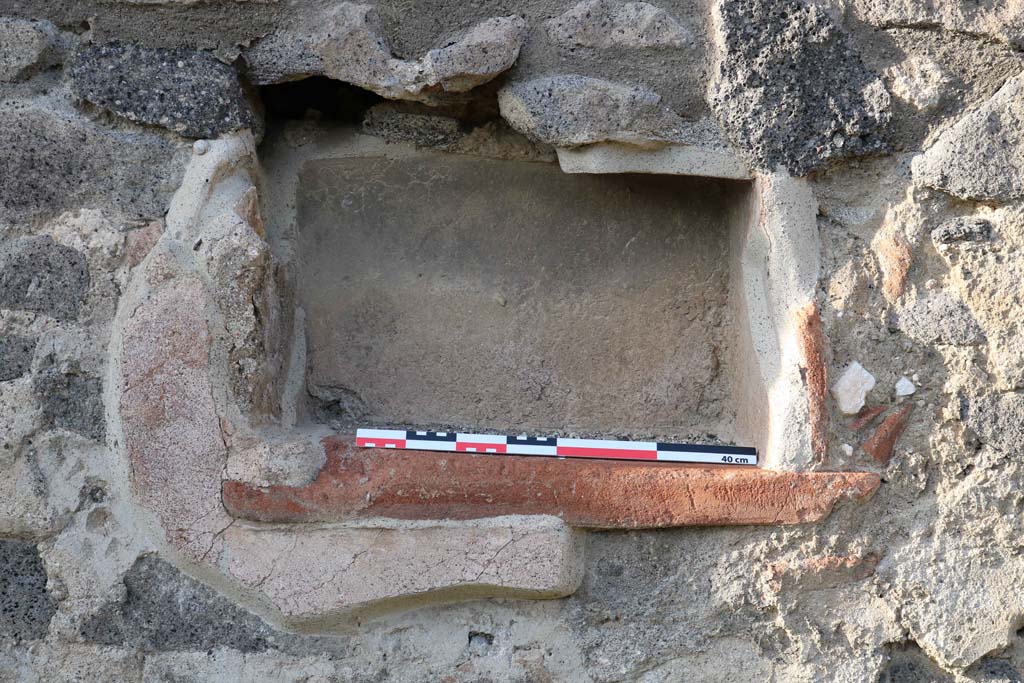 <![endif]>
IX.3.7 Pompeii. May 2006. Rectangular niche in north wall.
<![if !vml]>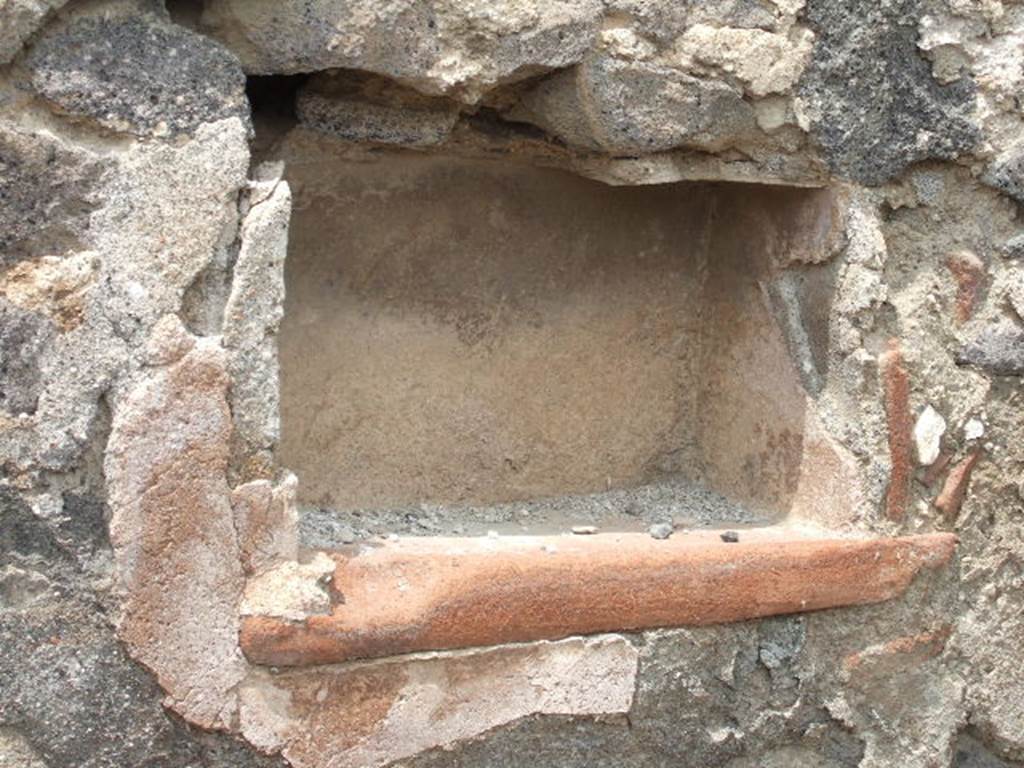 <![endif]>
IX.3.7 Pompeii. May 2006. Stairs to upper floor against the north wall, with arch below.
<![if !vml]>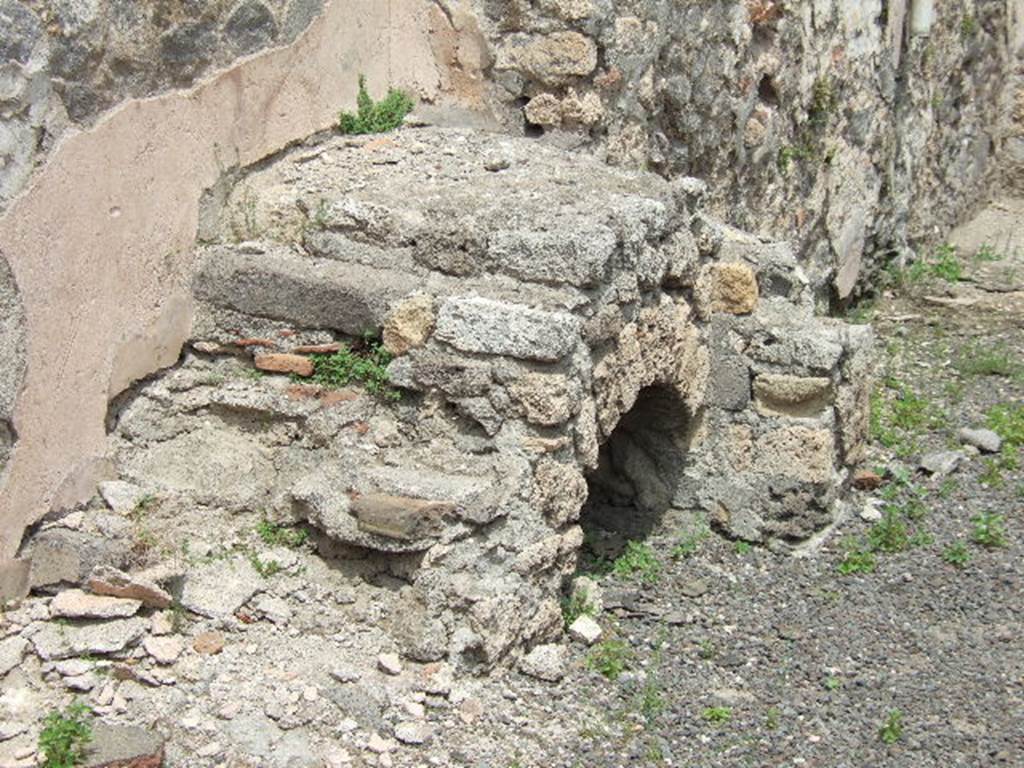 <![endif]>
IX.3.7 Pompeii.  Picture of Isis Fortuna with horn of plenty and sistrum and with a foot on a globe.
To the right is Hesperus and left is Helios or Harpocrates - Helios.
Now in Naples Archaeological Museum, where it is shown as from IX.3.15.
Fröhlich says this picture was found on the north wall of the shop IX.3.7.
He points out that the painting was described by Panofka in 1847, so it could not be IX.3.15 which was first excavated in 1861.
See Fröhlich, T., 1991, Lararien und Fassadenbilder in den Vesuvstädten. Mainz: von Zabern.  (L101: p. 294).
Others believe the painting of Isis-Fortuna (MN 8836) was found in 1847 in IX, iii, 15 on the north wall of a cubiculum. 
It was discovered while carrying out work on one of the walls of the Casa di Suonatrici which joined the two houses.
Our thanks to Raffaele Prisciandaro for his help in identifying the following sources:
Casa di Philocalus; parete N del cubicolo; CIL 04, 882 (197);
Bulletino Archeologico Italiano, 1, 1862, n. 20, 1862, pp. 159 160;
Panofka, BdI 1847, pp. 127-128 "nell'appoggiar una delle mura della casa delle Suonatrici si è scoperta al muro della casa accanto una pittura …"
According to PPM, there was no agreement on whether the painting depicting Isis-Fortuna, now at Naples Museum, came from this shop.
See Bragantini I., in 1990-2003. Pompei: Pitture e Mosaici: Vol. IX. Roma: Istituto della enciclopedia italiana, p.314, p. 335.
<![if !vml]>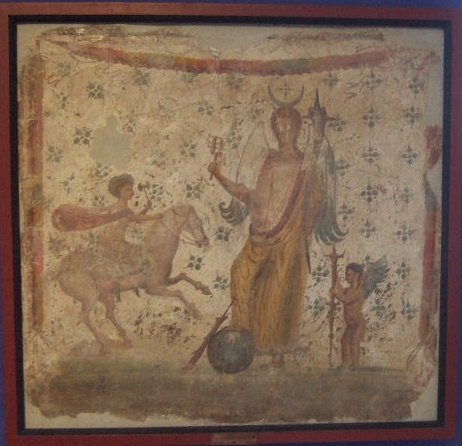 <![endif]>
IX.3.7 Pompeii. Drawing by Giuseppe Abbate, 1847, of lararium painting with CIL IV 882, above it.
Now in Naples Archaeological Museum. Inventory number ADS 1094.
Photo © ICCD. http://www.catalogo.beniculturali.it
Utilizzabili alle condizioni della licenza Attribuzione - Non commerciale - Condividi allo stesso modo 2.5 Italia (CC BY-NC-SA 2.5 IT)
<![if !vml]>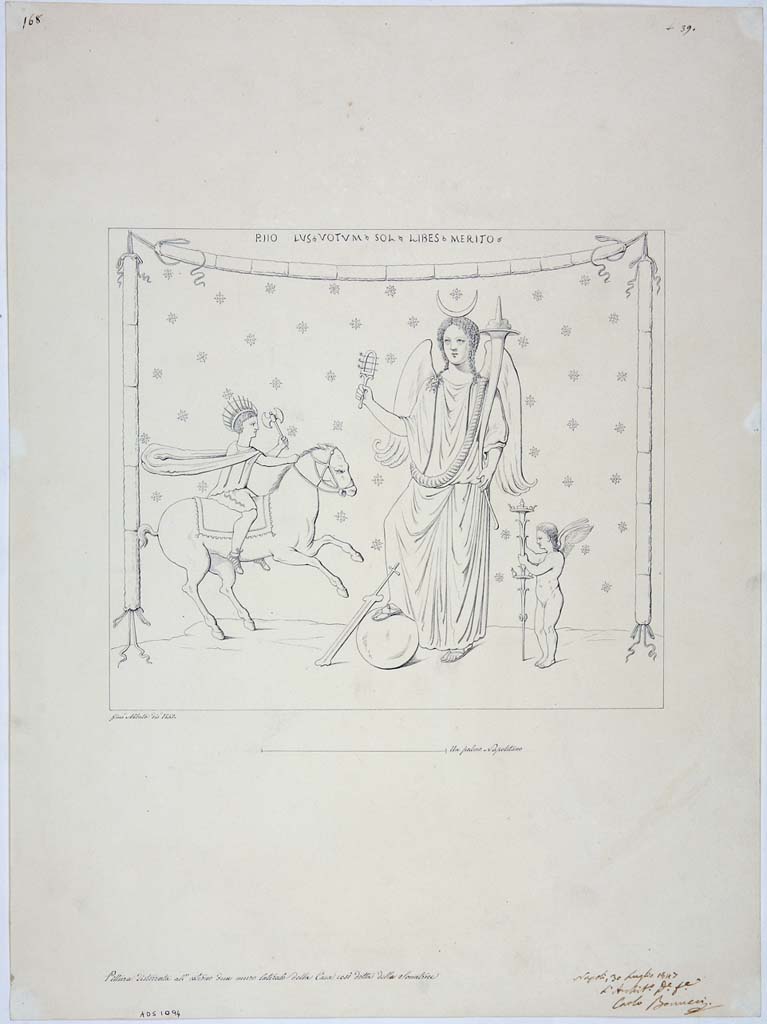 <![endif]>
IX.3.7 Pompeii. Copy of lararium painting published in 1862 showing inscription in top part.
PILO LVS VOTVM SOL LIBES MERITO
See Bulletino Archeologico Italiano, 1862, Tav. IV.
According to Epigraphik-Datenbank Clauss/Slaby (See www.manfredclauss.de) this read
Philo[ca]lus votum sol(vit) libe(n)s merito      [CIL IV 882]
According to Cooley this translates as
Pilo[ca]lus fulfilled his vow willingly to the deserving deity.
See Cooley, A. and M.G.L., 2004. Pompeii: A Sourcebook. London: Routledge, p. 106, E60.
<![if !vml]>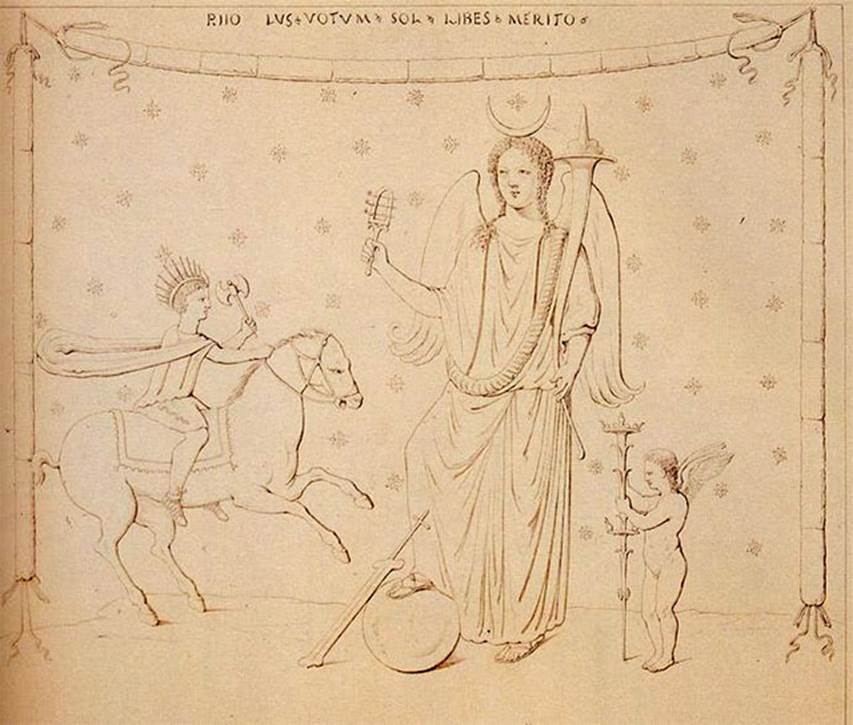 <![endif]>
IX.3.7 Pompeii. May 2005. Looking across entrance towards the north wall.