VII.5.12 Pompeii. Forum Baths. Entrance to baths courtyard and portico from Vicolo delle Terme.
Excavated 1823. (Now part of modern restaurant).
Other parts of the baths:   VII.5.2 VII.5.7 VII.5.8 VII.5.10 VII.5.24 VII.6.17 VII.6.18    Forum Baths Plan
<![if !vml]>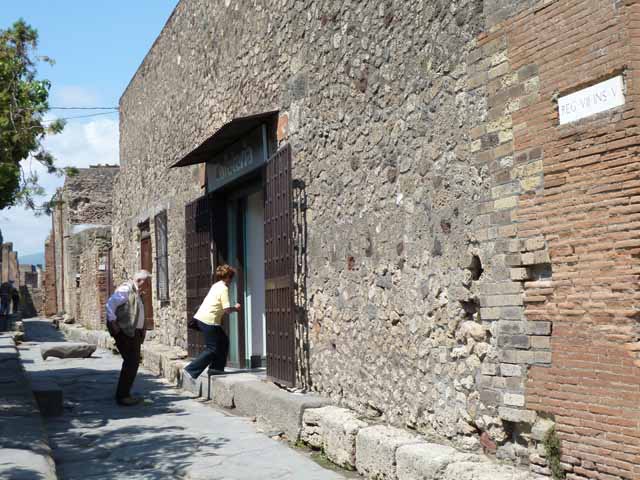 <![endif]>
VII.5.12 Pompeii. September 2005. Entrance (3 on plan) leading to bath's portico, courtyard and to men's baths.
According to Niccolini (see plan) there were:
A comfort area with latrine (4).
The baths courtyard (5) with a portico (7) and stone benches (8).
An oecus or exedra (9)
A corridor (13) leading to the men's changing room (14).
A corridor (10) leading to a small latrine (11) and the entrance (12) on the Via del Foro (VII.5.24).  
See Niccolini F, 1890. Le case ed i monumenti di Pompei: Volume Terzo. Napoli.
Other parts of the baths:   VII.5.2 VII.5.7 VII.5.8 VII.5.10 VII.5.24 VII.6.17 VII.6.18    Forum Baths Plan