VI.15.12
Pompeii.
Casa di Vedius Vestalis
.
Linked to VI.15.11
. Excavated 1896.
In Notizie degli Scavi, January 1897, plan on p.14, this house was not yet shown.
In NdS, June 1897, p.269, it is seen as VI.15.12. See Note on Region VI, Insula 15 plan for information.
<![if !vml]>

<![endif]>
VI.15.12 Pompeii. December 2005.
Entrance doorway, leading to a modest house, according to Sogliano in Notizie degli Scavi.
According to Della Corte, this house was given its name, by the finding of an amphora with the words –
(Vinum) Pompei(anum)
T. Vedio Vest(ali), ab Castricio [CIL IV 5559 with note 2 on page 63]
See Della Corte, M., 1965. Case ed Abitanti di Pompei. Napoli: Fausto Fiorentino. (p.63)
VI.15.12 Pompeii. September 2004. Looking west along entrance corridor across atrium to tablinum/triclinium.
According to NdS, the fauces, or entrance corridor, led into the atrium which had an impluvium faced with signinum in its middle. At the head of the impluvium was a travertine monopodium grooved at the front, and on both sides the mouth of a cistern, that to the north-west of the impluvium was covered by a terracotta dolium restored by the ancients, the other in the south-west corner by a low puteal of travertine.
Opposite to the entrance was a rather spacious room, probably the triclinium.
It had a window overlooking the atrium.
See Notizie degli Scavi, June 1897, (p.270)
<![if !vml]>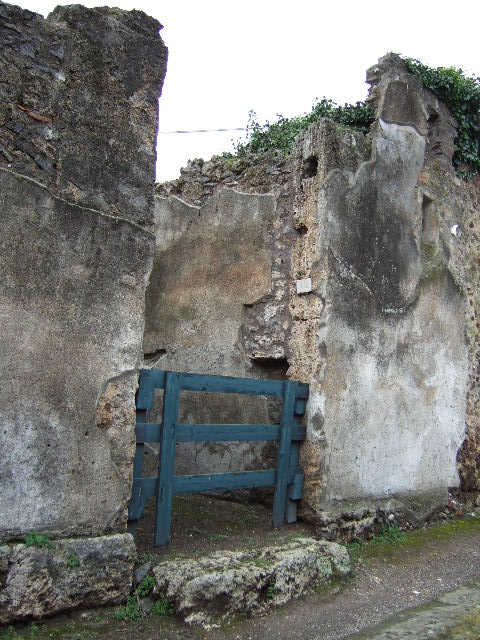 <![endif]>
Looking south along Vicolo dei Vettii near VI.15.12 in December 2007.