VI.14.25 Pompeii. House

.

Excavated 1874 to 1876.
<![if !vml]>

<![endif]>
VI.14.25 Pompeii. December 2005. Looking west towards entrance doorway.
<![if !vml]>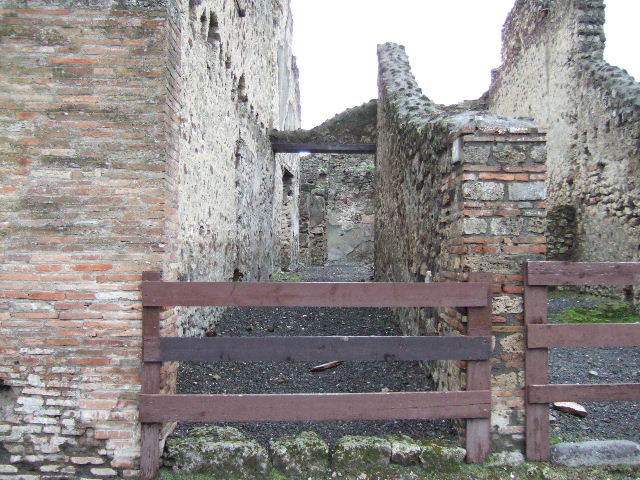 <![endif]>
VI.14.25 Pompeii. September 2004. Looking west along entrance corridor.
According to BdI, the fauces was of a very long length (8.22m).
However the house was a very poor, small house.
See BdI, 1876, (p.45-46).
On the left of the corridor (centre of photo) would be the doorway to the triclinium with window onto garden.
<![if !vml]>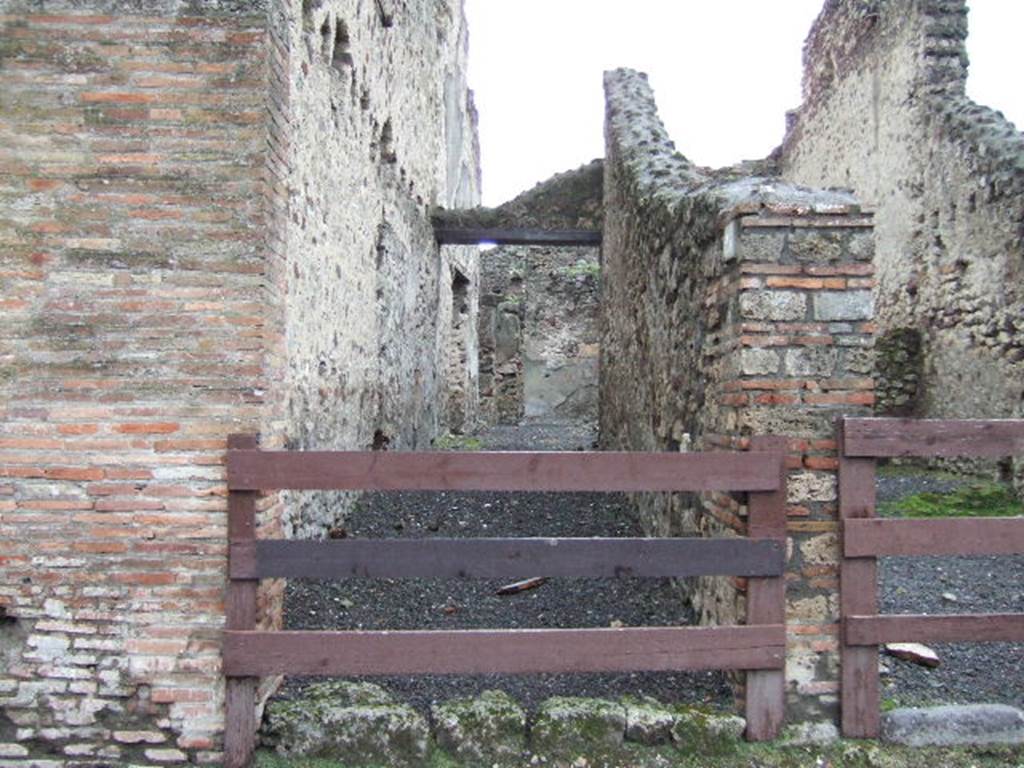 <![endif]>
VI.14.25 Pompeii. W.75. Triclinium wall decoration, south wall as painted by Presuhn.
See Presuhn IV, tav 6.
According to BdI, when excavated the triclinium was the grandest room, painted in the last IV Style, on a white background.
In the middle of each painted compartment were painted birds.
The ceiling was formed by what could be called a decorative vault of stucco.
The threshold, of which the post could be seen, was perhaps of wood.
A large window opened towards the west onto a small garden, which was on the same (south side) of the atrium.
See BdI, 1876, (p.45-46).
According to Bragantini, the dado was red with panels of painted plants, separated by smaller panels with plants.
The middle zone of the wall was white, separated into panels by narrow panels with golden candelabra.
In the centre of the panels were painted birds, the panels were bordered by two thin parallel lines.
See Bragantini, de Vos, Badoni, 1983. Pitture e Pavimenti di Pompei, Parte 2. Rome: ICCD. (p.287, ambiente (e)).
Photo by Tatiana Warscher. With kind permission of DAI Rome, whose copyright it remains.
See http://arachne.uni-koeln.de/item/marbilderbestand/230724
<![if !vml]>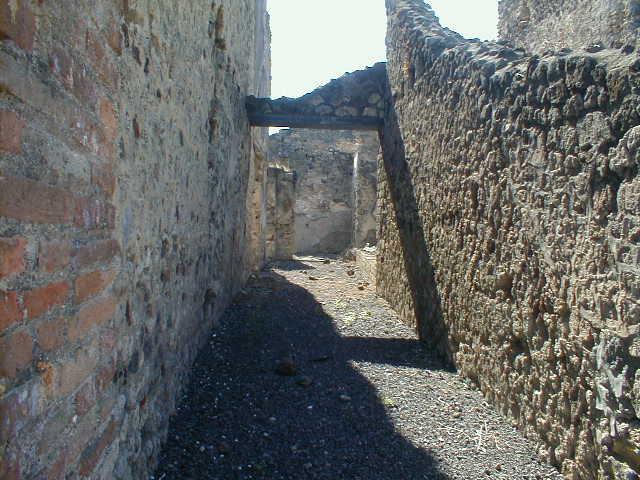 <![endif]>
VI.14.25 Pompeii. May 2005.
Fresco from rear room of VI.14.25 showing repaired wall/doorway, looking over rear wall from VI.14.26.
<![if !vml]>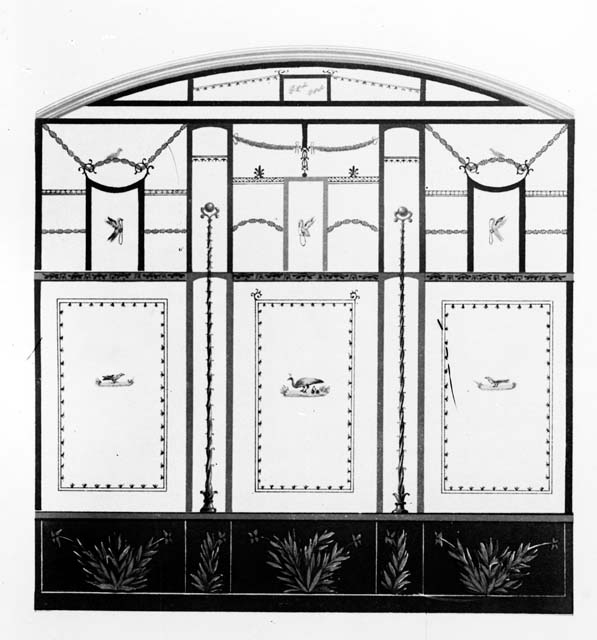 <![endif]>
VI.14.25 Pompeii. Looking west from entrances on Via del Vesuvio.
Plan showing entrance to VI.14.25, and shop at 26, from cork model exhibited in Naples Archaeological Museum.
According to Wallace-Hadrill, this was a complex of seven rooms and a light-well at the end of the passageway.
It had been identified as an officina tinctoria. When excavated there had been Style IV decoration in three of the rooms.
See Wallace-Hadrill, A. (1994): Houses and Society in Pompeii and Herculaneum. Princeton Univ. Press, (p.213)
According to Eschebach, entered by a long corridor, on the left would have been a triclinium fenestratum, and garden with small portico
On the right, a yard with two neighbouring rooms. On the west side, cubiculum, kitchen, storeroom, steps to upper floor and latrine, dormitory.
See Eschebach, L., 1993. Gebäudeverzeichnis und Stadtplan der antiken Stadt Pompeji. Köln: Böhlau. (p.213)
According to Jashemski, the small garden at the rear of a large exedra had a portico on the north supported by a single column.
See Jashemski, W. F., 1993. The Gardens of Pompeii, Volume II: Appendices. New York: Caratzas. (p.150)
On the model above, the small garden would be the room on the left, with a window and doorway in its west wall.
According to Boyce, in the west wall of the kitchen beside the hearth, was an arched niche.
Its floor projected as a narrow shelf.
Sogliano reported a fragmentary lararium painting in this room – now entirely vanished.
See Boyce G. K., 1937. Corpus of the Lararia of Pompeii. Rome: MAAR 14. (p.53, no.201)
See Sogliano, A., 1879. Le pitture murali campane scoverte negli anni 1867-79. Napoli: (p.19, no.68, in the kitchen)
See Giacobello, F., 2008. Larari Pompeiani: Iconografia e culto dei Lari in ambito domestico. Milano: LED Edizioni. (p.178)
According to Garcia y Garcia, VI.14.25 was affected by the demolition and destruction of two rooms, and part of the perimeter wall, due to the nearby bombing in 1943.
See Garcia y Garcia, L., 2006. Danni di guerra a Pompei. Rome: L'Erma di Bretschneider. (p.91)
.