VI.8.10 Pompeii.
Steps to upper floor.

Excavated 1823, 1826

,1845

.

<![if !vml]>

<![endif]>
VI.8.10 Pompeii. December 2005. Looking north.
According to Garcia y Garcia, there used to be a small pilaster that divided entrance 9 and 10, on the left in front of the counter.
In 1943 a bomb fell on the road here, causing the destruction and loss of the pilaster.
See Garcia y Garcia, L., 2006. Danni di guerra a Pompei. Rome: L'Erma di Bretschneider, (p.76).
According to Pagano and Prisciandaro, in March and April 1824 somewhere along the walls of the entrance 9 and 10, were found –
M(arcum) Cerrinium aed(ilem)
d(ignum) r(ei) p(ublicae) o(ro) v(os) f(aciatis) di<g=C>(nus) <e=I>s(t) [CIL IV 264]
Licinium Faust(um) [CIL IV 265]
written under, in red - M(arcum) Cerrinium [CIL IV 266]
Q(uintum) Postumium [CIL IV 267]
L(ucium) Ceium
Secundum [CIL IV 268]
See Pagano, M. and Prisciandaro, R., 2006. Studio sulle provenienze degli oggetti rinvenuti negli scavi borbonici del regno di Napoli. Naples : Nicola Longobardi.
(p. 129)
See PAH II,100; III, 50
<![if !vml]>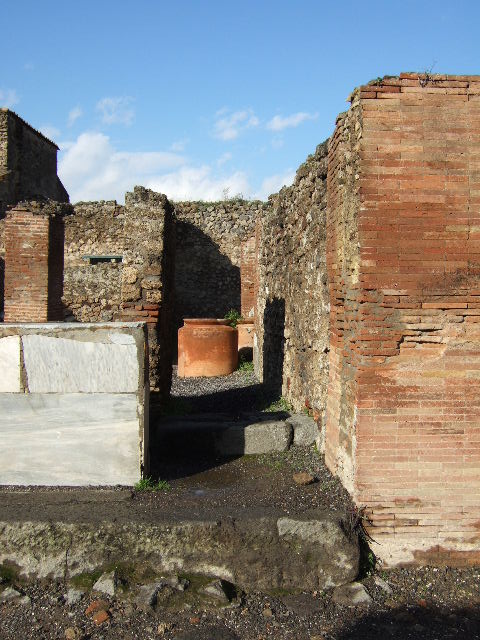 <![endif]>
VI.8.10 Pompeii. May 2005.
Looking north along and through site of steps to upper floor, towards VI.8.9.