Excavated 1873/4. Bombed in 1943. (Eschebach East 31, Kockel Nord 31).
According to Kockel, in 1873/4 nine pre-roman burials were found to the west of the pottery HGE29/30.
7 simple terracotta urns with Ash residues were found, of which two had been protected with three bricks.
<![if !vml]>

<![endif]>
One brick carried the stamp L. EUMACHI.
Nearby, at the same level, several bronze coins were found of which 4 could be identified, one of Agrippa, one of Tiberius and two of Vespasian.
There were two stones in herm form of the type particular to Pompeii.
Also found were two coins with Oscan lettering, preceding the Social War, never previously found in Pompeii.
Opinions differ over the age of the graves, and whether they are Samnite, Roman or both.
See Sogliano in Giornale degli Scavi di Pompei N. S. 3, 1874, 5 Anm 1:7
See Mau and Von Duhn in Bullettino dell'Instituto di Corrispondenza Archeologica (DAIR), 46, 1874, p. 158-160.
See Kockel V., 1983. Die Grabbauten vor dem Herkulaner Tor in Pompeji. Mainz: von Zabern. (p. 161).
According to Mau, several of the graves were explored.
In them were found rough stone coffins, made of slabs and fragments of limestone.
They contained remains of skeletons together with small painted vases.
The vases were the sort manufactured in Campania during the third and second centuries BC.
Two coins were found, in separate graves, with Oscan legends.
See Mau, A., 1907, translated by Kelsey, F. W., Pompeii: Its Life and Art. New York: Macmillan. (p. 407).
<![if !vml]>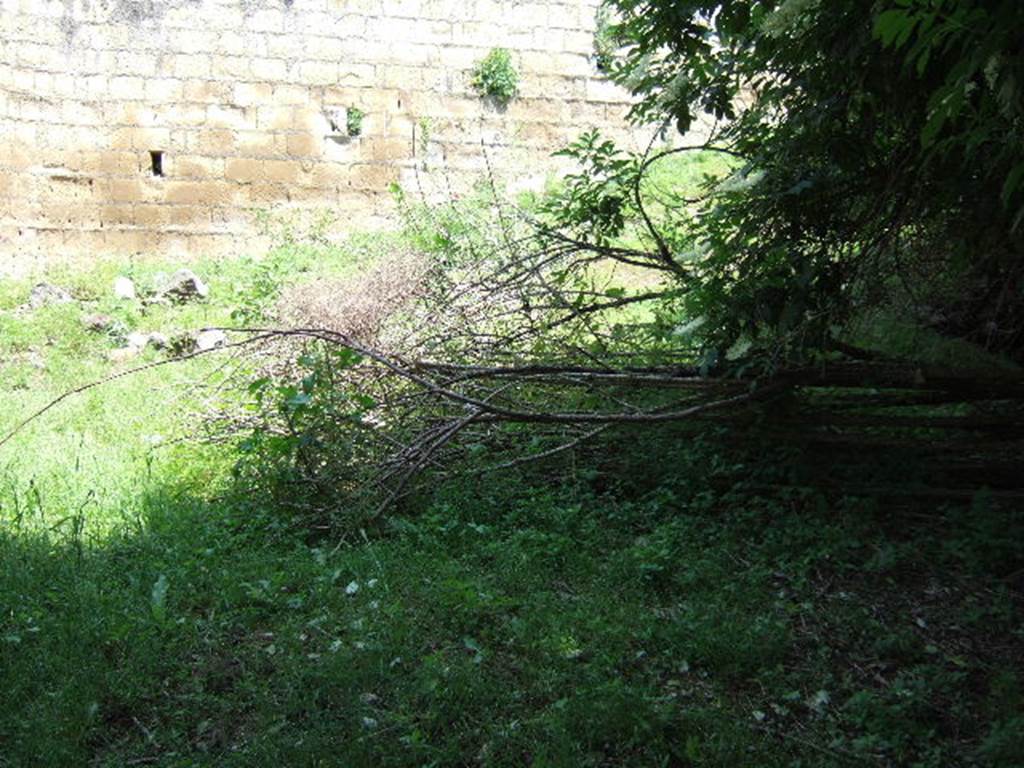 <![endif]>
HGE31 Pompeii. May 2006. Derelict site of area of HGE31 and HGE32.
According to Garcia y Garcia, unfortunately also hit by a bomb in September 1943, and lost were the Samnite tombs excavated in 1873 and recorded by Fiorelli.
See Garcia y Garcia, L., 2006. Danni di guerra a Pompei. Rome: L'Erma di Bretschneider. (p.163)