VII.4.59 Pompeii. Casa della Parete Nera or House of the Black Wall or Casa dei Bronzi
Room Plan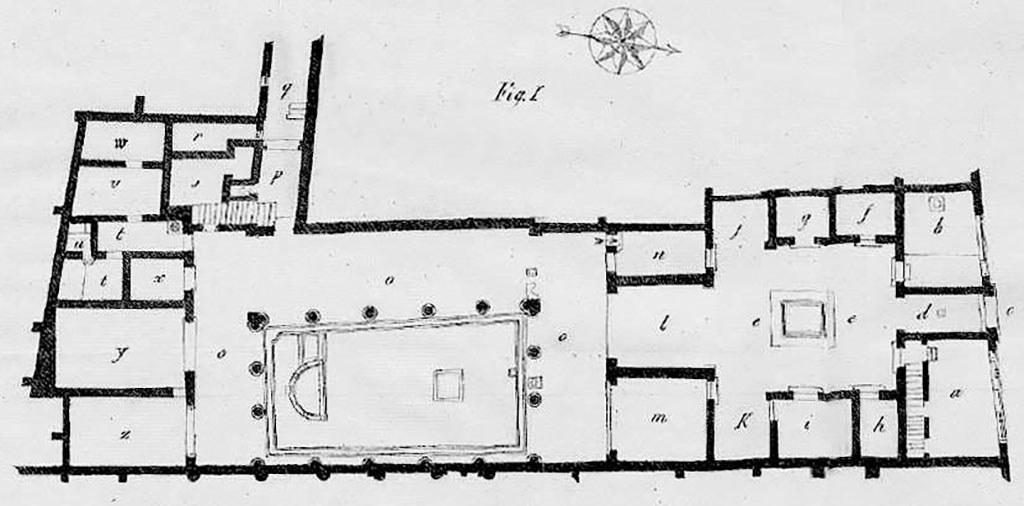 Plan by Avellino 1840. The same numbers are used by Staub Gierow, 2000.
See Avellino F., 1843. Descrizione di una casa disotterrata in Pompei negli anni 1832, 1833 e 1834., Napoli, Memorie della R. Accademia Ercolanese di archeologia, III, 1843, p. 151-198, Fig 1.
See Staub Gierow M., 2000. Casa della Parete Nera: Hauser in Pompeji Band 10, DAI. München: Hirmer, pl. 21-22.
Key:
a: Shop at VII.4.58, with two rear staircases
b: Shop at VII.4.60, shop of Saturninus, negotiator aerarius, with door to atrium e at rear
c: Entrance
d: Fauces
e: Atrium
f: Cubiculum
g: Cubiculum
h: Cubiculum
i: Cubiculum
j: Ala
k: Ala
l: Tablinum
m: Oecus
n: Andron or corridor
o: Peristyle
p: Angiportus
q: Posticum
r: Narrow room next to rooms p and q
s: Cellarium
t: and u: Corridor, kitchen and latrine
v: and w: Night rooms for servants working in the nearby kitchen?
x: Cubiculum
y: Exedra or triclinium
z: Triclinium
The room numbers are those referred to on the pompeiiinpictures pages for VII.4.59.
This plan is to help you accurately locate the rooms shown in the photographs of this house.
Please be aware that the room numbers shown may differ from any other plans or records both published and unpublished.